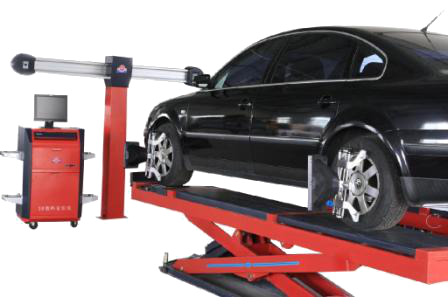 Computerized
4 Wheel Alignments
Only $89.99
Everyday!
Drive Safer and Save Money With a Wheel Alignment

Wheel alignment is preventive maintenance overlooked by most people. Wheel alignment not only prevents your car from pulling to one side or the other, it also can improve your tire life.  Poor wheel alignment not only is a safety issue, but it can hurt your vehicle's fuel economy.  Because improper alignment affects so many other issues, you need trained professionals to perform this service.  Marion Toyota not only has expert technicians, but they also have the latest computerized state of the art equipment to do the job right.

What is a Wheel Alignment Service? - Wheel alignment is simply adjusting the angles of your vehicles wheels so they are parallel to the other tires and perpendicular to the ground.
Benefits of Wheel Alignment - Properly aligned tires will track straight and true, which not only helps with gas mileage, it also maximizes the life of tires. In regards to safety, an aligned tire will not pull to the right or the left. Your vehicle will also drive more smoothly with tires that are properly aligned. Properly aligned tires are also better to achieve maximum traction on slippery surfaces which can be important when driving in less than ideal conditions.

New Expanded Hours!
Monday - Friday 7:00 a.m. to 6:00 p.m. (Parts 5:30)
Saturday 7:00 a.m. to 3:00 p.m.
"...treated us like they really appreciated our business They have always treated us with utmost respect... like a good dealership would treat any good customer."
-R. Etheridge - Campbell Hill


"From management through sales and financing and parts and service the dealership is excellent. I have bought many Toyotas from them and I will not even try to trade with any other dealership!"

-W. Hopkins - Marion, IL

"I made my service appointment online, so I didn't have any wait time. I received an email confirmation of the appointment."
-R. Auxier - Murphysboro