People You know, Cars You Trust

There's a lot of great reason's to rent a Toyota.  Here are just a few:
Enjoy a long weekend getaway in a current model year Toyota.
Rent a comfortable, roomy, and dependable Toyota vehicle for out-of-town guests or a business trip.
"Try Before you Buy" - test drive your next Toyota before you commit to buying.

Drive away in the latest model Toyota while yours is being serviced or repaired.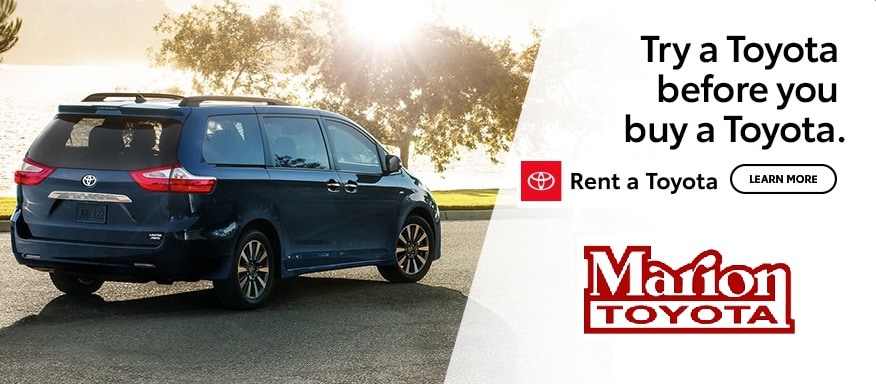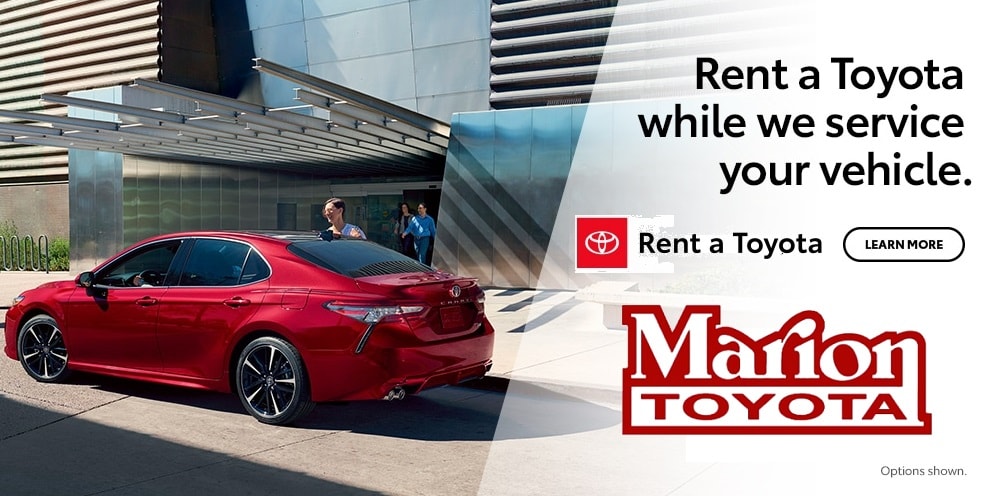 *All Renters must be 21 years of age, possess a valid driver's license, valid credit card and provide proof of insurance.  Prices subject to change without notice.  Prices are plus all applicable taxes.  $0.23 per mile if over mileage limit.  Fuel charges apply to any vehicle not returned with a full tank of fuel.  All vehicles must be picked up and returned to Marion Toyota. Monday through Friday by 5 pm. Closed Saturday & Sunday. Saturday, Sunday & Holiday returns will be billed until next business day check-in.  No smoking is permitted in Marion Toyota Rental Vehicles.  Penalties apply.   See rental agreement for all details.
 7% VLCRF - Vehicle License Recovery fee applied to every rental. The VLCRF is the owner's charge to recover the estimated average daily cost per vehicle of the charges imposed by the governmental authorities upon owner or its affiliates to title, register and plate all vehicles in its rental fleet registered in Illinois.The VLCRF is not calculated based on costs imposed upon a particular vehicle.


Marion Toyota is proud to offer the finest rental vehicle fleet in southern Illinois. All of our vehicles are 

>

current model year Toyota's, most

 

with

 less than 10,000 miles and less than 5 months old

.

 Smoking is not permitted in any of our vehicles. Whether you need temporary transportation while your vehicle is being serviced, want to experience an extended test drive before purchasing, or you just want a new model to take away for vacation, Marion Toyota has the perfect rental vehicle for you. You will find vehicles of every size for every need in the Marion Toyota Rental Car Fleet.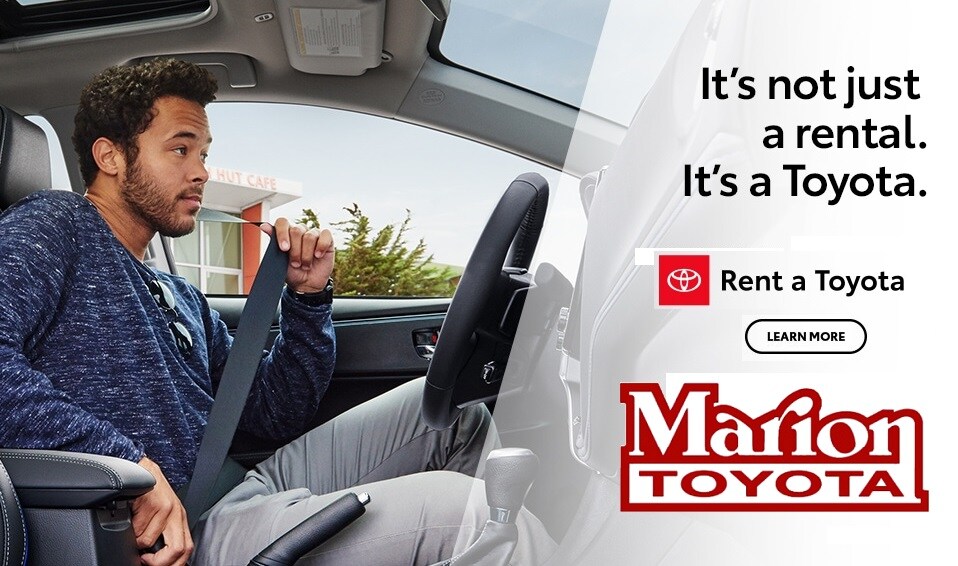 Experience
-
All of our vehicles are current model year Toyota's and are non-smoking vehicles.  This provides you with a better driving experience.

Economy -
Over 70% of our rental fleet vehicles get over 25 miles per gallon.  Our most popular rentals (Corolla and Camry) get over 30 miles per gallon.
Maintenance
-
Only offering two way rentals allows us to maintain our vehicles to exact factory standards.

Quality -

Toyota sets the benchmark in terms of vehicle quality.  Many of our vehicles offer  a full compliment of additional features.
Dependability
- When you rent from us, you're dealing with a local, established business in your local community.  We're always here to serve you.
Reliability
-
Renting a Toyota ensures that you are driving one of the most reliable vehicles available.  No worries about being left stranded on the side of the road.