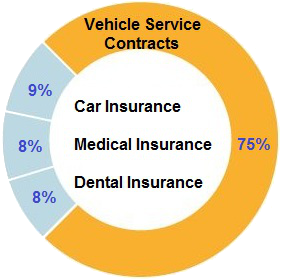 No Money? 
No Problem!
Make payments on the VSA you need without breaking the family budget with unexpected vehicle repairs!
Pay No Interest
up to 18 months!

Call 866-602-8013
for more information
Do I Need a Vehicle Service Agreement?

Probably.  Over the life of your vehicle, you're three times more likely to use a service contract than have major claims for medical, dental or car insurance. That's why we offer a variety of terms to cover new and used vehicles up to 10 years or 125,000 miles.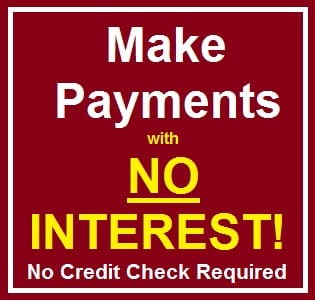 Don't Let Extra Protection Pass You By
There's a level of vehicle protection that's just right for you and your new Toyota. TFS offers three Vehicle Service Agreement (VSA) plans, each offering a variety of extended service coverage options that help protect you from the cost of unanticipated repairs. These Toyota Extra Care VSAs are available if your Toyota is less than three years old and has fewer than 36,000 miles, whichever occurs first.

New Vehicle Service Agreement Plan Summaries
Use our VSA Comparison Chart to get up to speed on the features and benefits of our popular Platinum, Gold and Powertrain Vehicle Service Agreements.

Platinum Plan
Go for maximum peace of mind by covering virtually every component group in your vehicle. Terms range from 3 years/50,000 total vehicle miles to 8 years/125,000 total vehicle miles.

Gold Plan
Receive solid extended service coverage for most of your Toyota's major components. Coverage terms range from 3 years/50,000 total vehicle miles to 8 years/125,000 total vehicle miles.

Powertrain Plan
Drive confident with extended service coverage for your Toyota's engine, transmission and axle-assembly components. Plan provides coverage for 6 years/100,000 total miles.


Call 866-602-8013 for more information
Our Finance and Insurance Team is ready to help you


The Finance Team at Marion Toyota is committed to finding you the very best finance options for your particular situation.  We realize that very few people have perfect credit, often through no fault of their own.  And we pride ourselves on being able to help over 90% of our customers secure the credit they need.  Fill out the online credit application.  It's the first small step toward getting you the vehicle that you and your family need, and one that you can afford.
| | | |
| --- | --- | --- |
|   |   |   |
|  Scott Phelps |  Steve Ward |  Pete Buttitta |
New Vehicles
Eligibility
Consider this coverage if your vehicle is less than 3 years old and has fewer than 36,000 total vehicle miles.
Coverage
There are many plans available to fit your driving needs.  Ask us for more details.

Used Vehicles
Eligibility
Consider this coverage if your vehicle is within current plus 9
model years old and has less than 125,000 total vehicle miles.
These plans are available through your Toyota dealer only at the
time of used vehicle purchase.
Coverage
There are many plans available ? one to fit your driving needs.
Ask your Toyota dealer for details.
3 years/up to 80,000 miles
4 years/up to 125,000 miles
5 years/up to 125,000 miles
6 years/up to 125,000 miles
7 years/up to 125,000 miles
8 years/up to 125,000 miles

Time/Mileage
1 year/12,000
2 years/24,000
3 years/36,000
4 years/50,000
5 years/60,000

Maximum Mileage at Purchase
Up to 125,000 miles
Up to 100,000 miles
Up to 100,000 miles
Up to 100,000 miles
Up to 85,000 miles