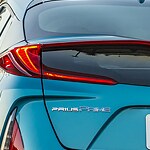 In electric mode, the Prius Prime's electric powertrain provides a range of 25 miles. Taking long road journeys and not using an ounce of fuel is a breeze with this vehicle. When the battery is low, Prius Prime will keep functioning as if it were on gas instead of electricity.
There are three separate modes of operation for the Prius Prime; Electric, Auto, and Hybrid. Depending on your preferences and the road conditions, the Auto EV mode changes between electric and hybrid driving modes to maximize economy. The gas engine power and the hybrid vehicle batteries are combined in the Prius Prime hybrid to improve efficiency and economy.
The Toyota Prius is the best-selling hybrid vehicle. Powered by a 121-horsepower engine, the Prius can go anywhere. In addition, it sports a powerful 4-cylinder engine with a VVT-I that improves fuel economy.