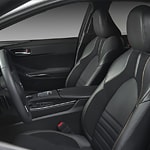 Toyota has remained the leading manufacturer and distributor of some of the luxurious and affordable vehicles in the world. The lineup of Toyota vehicles consists of some of the best sedans and SUVs that come equipped with state-of-the-art technologies and cutting safety systems.
Safety is one of the key features that Toyota promotes on all its vehicle models. The Toyota Avalon is one of the flagship sedans from Toyota that offers comfort and high performance. This sedan comes standard with a host of safety features for both the driver and the passengers. It has a host of driver-assistance features, which include adaptive cruise control and lane-keeping assist to help the driver make informed decisions when the visibility is poor.
Additionally, the new Toyota Avalon is equipped with a standard automated emergency braking system with a pedestrian detection system for extra safety when driving in busy streets in the city or on busy highways.