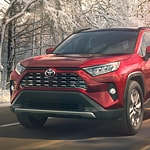 Toyota has been keen on delivering exactly what its target market requires at the best price option. The lineup of Toyota sedans and SUVs consists of top-of-the-line vehicles that offer both luxury and high performance for all driving needs. Whether you are looking for a luxury sedan for your daily commute in the city or a heavy-duty off-road SUV, Toyota has a vehicle for you.
The most impressive on the lineup of Toyota SUVs is the efficient and environmentally-friendly Toyota RAV4 Hybrid. This SUV is one of its kind and comes packed with safety and luxury features that set it apart from its competitors. When it comes to seating, the RAV 4 Hybrid has five seats. The front seats are sturdy and supportive with plenty of room for people to sit up without a problem.
The back seat of the Toyota RAV4 Hybrid can comfortably fit three children or two adults. This makes it a family-friendly vehicle.