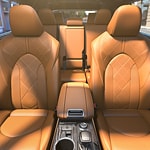 The Toyota Highlander has been a popular choice among families for years. It's designed to provide you with the room and performance that you need. it can be hard to pick just one because there are so many different features! In this article, we're going to talk about some of the most important performance features that come standard on all Highlanders.
1) The Engines
All Highlanders come standard with a 3.5L V6 engine which provides the following ratings: 270 horsepower, 248 lb-ft of torque, and 18/24 mpg. If that's still too slow for you, then upgrade to the 3.5L V6 with Direct Injection Engine (D-4S) which boosts the horsepower rating to 295.
2) The Suspension System
All Highlanders come standard with an Automatic Variable Distribution (AVS) system that redistributes power from left to right depending on wheel slippage. You can also get these features in your Highlander: Vehicle Dynamics Integrated Management (VDIM). This system will control your braking, steering and stability in critical driving maneuvers such as emergency braking and swerving.