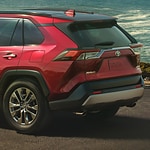 For drivers looking for comfort and a luxurious ride at a reasonable price, Toyota is the go-to automaker. Since its inception, Toyota cars have been renowned to cater to larger driving needs. The lineup of Toyota sedans and SUVs is among the most popular cars in the United States and around the world.
The Toyota SUVs lineup is quite impressive, thanks to the popular RAV4 Hybrid that is well-liked in the series. It comes with unique styling on the outside and inside. The RAV4 Hybrid comes loaded with innovative technologies and great style. The new RAV4 Hybrid has a spacious cabin lined with premium material. It also features a huge cargo compartment.
This SUV also features a high-tech infotainment system that is simple to use. RAV4 Hybrid boasts a large cargo room than the majority of its hybrid and electric peers of the same class and price range. It has hands-free liftgates for ease of handling cargo.