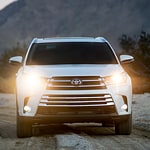 The Toyota Highlander is a popular SUV that comes with many great features. If you are in the market for a new vehicle and are considering the Highlander, it is important to know what these features are. In this blog post, we will discuss the exterior features of the Highlander and what makes it such a great choice for drivers and their families.
The Toyota Highlander comes with a variety of exterior features that are sure to appeal to drivers and their families. The first thing you'll notice about the Highlander is its sleek and stylish design. It has a sporty look that is sure to turn heads when you're on the road. The Highlander also comes with LED headlights and taillights, which not only look great but also provide excellent visibility when driving at night.
Another great feature of the Highlander is its roof rack. This is perfect for families who want to take their bikes or kayaks with them on vacation. The roof rack can also be used to store extra luggage when you're traveling.