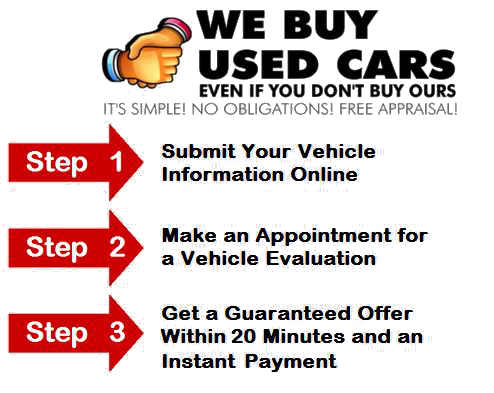 Hear What Our Customers Say
"My National Guard Unit got called up and I needed to get rid of my car fast.  Rather than store the car while I was gone, I decided to sell it.  We settled on a price within 30 minutes and I had my check the next day.  Thank you Marion Toyota."
-J. Margolis Carbondale, IL
"My wife and I decided we didn't need the 2nd car anymore.  Selling my car to Marion Toyota was much easier than placing an ad and waiting for the phone to ring."
-R. Harmiss Harrisburg IL

"I didn't think I could sell my car because my car wasn't paid off.  But they paid off my car loan and then wrote me a check for the difference.  I really needed the money."
Marion Toyota is the Used Car Auto Giant of southern Illinois.  To meet the demands of all of our used car customers, we need every car we can get our hands on.  We need all makes, all models regardless of age, mileage, or condition  That's why we'll pay you
top dollar for your car.  Even if your car is not paid off
, we'll still give you every penny it's worth.  Turn the equity in your driveway into
cash in your pocket
.  Sell your car to Marion Toyota...The Used Car Auto Giant!
Call our Used Car Buying Team at the numbers below.  We'll arrange an on-the-spot appraisal of your car and get you the cash in hand that you need.
We Buy All Makes and Models