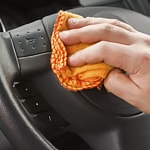 Do you enjoy having a clean car but find that you put off cleaning it until you really can't stand it anymore? Don't feel alone because it's the same with many drivers. Many are also surprised to learn that cleaning their cars doesn't have to be an hour-long process. Our team at Marion Toyota is eager to share some car-cleaning tips with you and your family. Cleaning the vehicle quickly is something in which the entire family can participate.
• Pick up all loose items laying in the vehicle and store them in a bag.
• Dampen a rag and wipe the dash and door insides
• Wash windows with a windshield washer and paper towels.
• Remove and shake out floor mats
• If time permits, you can vacuum the interior.
Give us a jingle or stop at our Marion shop and check out our supplies and services. We can also set you up for a test drive in your favorite vehicle.