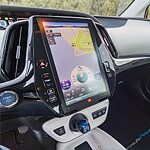 The designers of Toyota's newest Prius had your comfort and convenience in mind. The features that they included with this popular compact hybrid are unrivaled in the new car industry and make every ride in the Prius enjoyable.
Capable of seating up to five, the new Prius comes with several conveniently located USB ports for charging your devices. You can keep your smartphone or tablet charged and still have USB ports available for your passengers. The ports charge devices without overheating their batteries. The newest Prius also has a large LED screen on the dashboard where you can access its Apple CarPlay and Android Auto feature. The touchscreen lets you access your favorite mobile apps without trying to hold onto your phone and drive at the same time.
Also enjoy using Amazon Alexa while you drive. Alexa is available to help with tasks like finding gas stations or telling you the outside temperature.