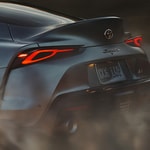 When you drive the Toyota GR Supra, you can feel its power under the pedal from the moment it revs up until you are passing another car on the highway. The GR Supra has more than a responsive acceleration. The engine is rated for 335 horsepower and 365 pound-feet of torque, which makes it fun to drive in any situation. The 3.0-liter inline supercharged engine is another reason to choose this sports car over any other.
With a six-cylinder, you would not expect as much power, but it expertly provides smoother shifting with an eight-speed automatic transmission. You can override this with paddle shifters if you opt for a different performance package. The powertrain is more fuel-efficient than most, getting 31 mpg on the highway. In addition, the handling and braking are precise even with the power of a rear-wheel drivetrain.
You can test out the latest Toyota vehicles and see the GR Supra in person when you take a test drive at Marion Toyota.